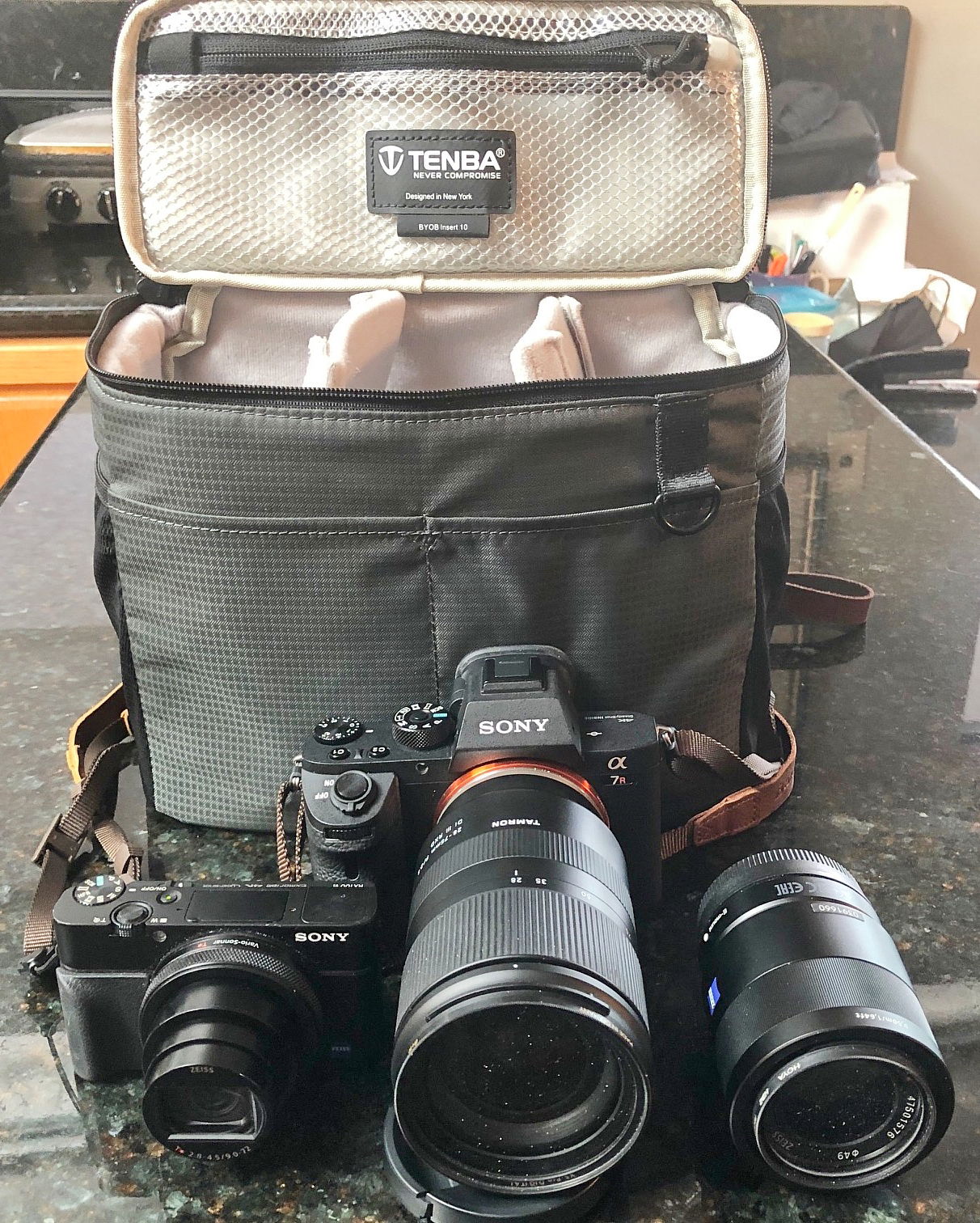 A 6-Pound Camera Bag That's All You Need to Travel the World

Planning which cameras and gear to take on my next cruise or vacation has been a lifelong obsession. I have to admit that the inhabitants of my camera bag seldom stay the same for more than a year. I invariably buy at least one item of new gear in advance of my next vacation and dispose my former "best choices" on eBay or my favorite camera store.

Even five years ago, the gear I felt I needed to shoot anything – anywhere – weighed about 15 pounds and fitted into 15" Tenba messenger bag that weighed about 12-pounds when I took it on a plane. Now I fit my needed gear into a 10" Tenba BYOB Bag weighing less than 6 pounds. Whereas I used to take 3 cameras with about 5 lenses between them, I now take 2 bodies with only 3 lenses.

What's made this possible are the astounding improvements in camera sensors. The full-frame 43MB sensor in my Sony a7Rii mirrorless cameras weighs just over a pound. When I mount my Tamron f2.8 28-75mm lens on it, which weighs about the same, I have an under 3-pound camera that can produce gallery-quality 75mm images all-day.

Then, if I use the 1.4X APS-C/Super 35mm feature on the Sony, I can produce full-frame 105mm 18 MB images with, according to Sony, no loss in quality. If I then manually crop this image by less than 50%, I can have the equivalent of a 210mm image that can easily be enlarged to a 20"x30" print.

This is a long way of saying that the superb Tamron f2.8 28-75 lens is the only zoom lens I need for the Sony a7Rii. The only things that are lacking in this combo is the capability to shoot in low-light situations and make poster-size enlargements. For these situations I also carry in my bag the 8-ounce Sony FE f8 55mm ZA prime lens. It's rated by DXoMark as one of the sharpest lenses on the market. It's also advertised as being weather-proof, as is the Sony body and Tamron lens.

With the Sony a7Rii and these 2 lenses, I believe I can meet any situation I'm likely to encounter – except for one increasingly common problem: Discreteness. I often find my self shooting where cameras are frowned upon or vulnerable to theft or damage. To shoot in these situations, I rely on the 9-ounce 28-200mm Sony RX100-M6, that I reviewed last month as the 2018 Cameras of the Year. If you read this earlier review, you'll see why I use it as my primary camera when I'm traveling and reserve the larger Sony and its 2 lenses for situations that a 1" sensor and small EVF can't handle.

All told, this works out to less than 5-pounds of gear. The Tenba BYOB 10" bag and a half-dozen batteries and two spare SD cards account for the other pound and brings the total weight to 6 pounds. I've chosen the Tenba BYOB 10" bag because it easily fits into any carry-on bag, even some of those that stow under your seat.