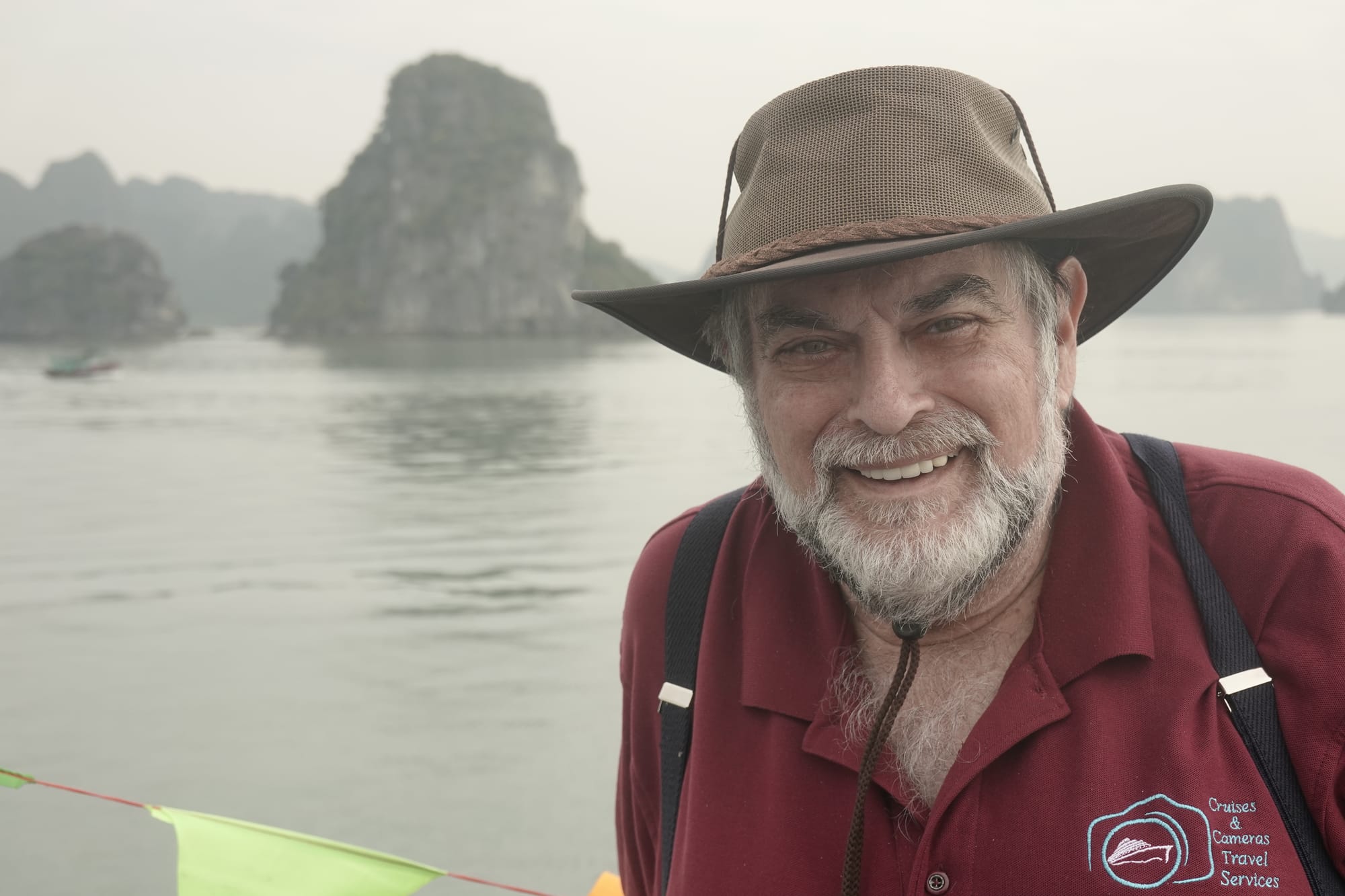 We've just disembarked from Seabourn's newest ship, the Seabourn Ovation, after her January 19 cruise. She started in Singapore and proceeded to Thailand, Cambodia, Vietnam and Hong Kong. My wife has told her friends that it was the best of the 40 cruises we've even been on.
The Ovation is, along with the Encore, Seabourn's newest ship. With 604 guests, it is larger than the Odyssey, Quest and the Sojourn that have 450 guests. All of its staterooms have verandas and it offers more dining choices. It has a Thomas Keller labelled-restaurant called The Grille, and a sushi restaurant that services terrific Japanese cocktails. The cuisine in main dining room, The Restaurant was consistently the best we've ever experienced in a main dining room at sea. Usually we eat in specialty restaurants about 80% of the time. Here we ate in them on only about 6 occasions since the food and service in The Restaurant was so good.
Seabourn clearly intends the Ovation and the Encore to maintain its reputation as one of the finest English-speaking cruise lines in the world. It will have to contend with recently launched, or soon-to-be launched, ships from Silverseas, Regent, Crystal, Ritz Carleton, Viking and Scenic that will try to claim this honor. Among the features that some of these rivals enjoy are ice-breaker hulls capable of going anywhere; mini-submarines and helicopters that are carried onboard some ships; traveling to remote destinations on a cruise line-owned jet; and ships on which there are more crew members than guests.
Seabourn is trying to combat this by selling off its much-loved smaller 200-guest, 20-year old, ships, the Legend and the Pride, to Windstar cruises which has rechristened them the Star Pride and the Star Legend. They will enter dry dock this year to have the hulls cut in half so that a center section with about 100 additional cabins can be added to each ship. This leaves Seabourn with the three450-guest ships and two 600-guest ships, and at least one smaller expedition ship on order.
A major topic of conversation on the Ovation during the first few days was whether Seabourn could match the service and atmosphere of its former smaller ships on a 600-passenger vessel. Since the ship was only three months old, nearly everyone was sailing on it for the first time. By the end of the first week this conversational thread died out as longtime Seabourn loyalists realized that Seabourn had matched the stellar performance of its smaller ships and added a host of new features as well. For instance, as well as being beautiful and in Bristol-condition, the ship's stabilization is the best I've seen. I'm sure that they're using a refined system that isn't available on older vessels. Also the internet service, the cabin stewardesses, and the staff behind the desks were outstanding.
A small-but-telling example of how Seabourn trying to stay ahead, is that unlike most other cruise lines under the thumb of the bean counters, Seabourn does not require guests to print their own cruise documents and luggage tags online. It provides a custom-printed booklet for each stateroom that contains the guests' cruise docs, airline reservations, excursions and spa appointments. The booklet comes in a luxury case that fits most iPads perfectly. I grabbed it for my iPad Pro before my wife could claim it for hers.
Similarly, rather than force you to tape the luggage tags on the handles of your bags, Seabourn sends you beautiful metal luggage tags inside of which you can place your business card. This used to be a common practice, but it's now relatively rare. Also, because Seabourn owns a caviar fishery in Uruguay, caviar is available for free 24-hours a day in your stateroom, or on deck by the pool, or in the lounges.
Detractors will point out that Seabourn is owned by Carnival Cruises whose sister lines are Carnival, MSC, Princess, Holland America and Cunard. Defenders will note that nearly all of the other true-luxury lines have been swallowed up by publicly-traded corporations such as such as Carnival and Royal Caribbean; or by private investment groups that have the resources to build new ships and provide them with costly toys.
Seabourn solves this by, along with sister line Holland America, maintaining its offices and call center in Seattle -- far away from the Carnival corporate offices in Miami. Dealing with the Seattle office, as both a consumer and travel advisor, is a truly pleasant experience in which phones are answered in the first few rings, you aren't transferred around the office to take care of routine matters, and the reps are empowered to handle nearly all reservations and accounting issues. As a travel advisor and traveler, it's my favorite cruise line to call.
Have they made goofs on the Ovation? Sure. They've continued the practice from the other Seabourn ships of installing thick pillars and a level floor in the main showroom, which means that relatively unobstructed views are only available in the first two rows. Also, most of the bathrooms clustered around the public areas are have only a single toilet. This led to frustration when a guest is trying to make a show or lecture on time. Also, under Ovation rules, Team Trivia groups could have as many a 12-persons on a team, this ruined the game for diehard players who love to whisper their answers to their teammates after every question. Finally lunch in the Sushi Bar appeared to be prepared earlier, and was several notches below the food quality in the evening.
However, like the Team Trivia problem, the Sushi Bar difficulty is likely to be corrected as soon as this article is published. That's just the Seabourn way.
But this was it for complaints. Otherwise the ship, service and itinerary were absolutely stellar and world-class.