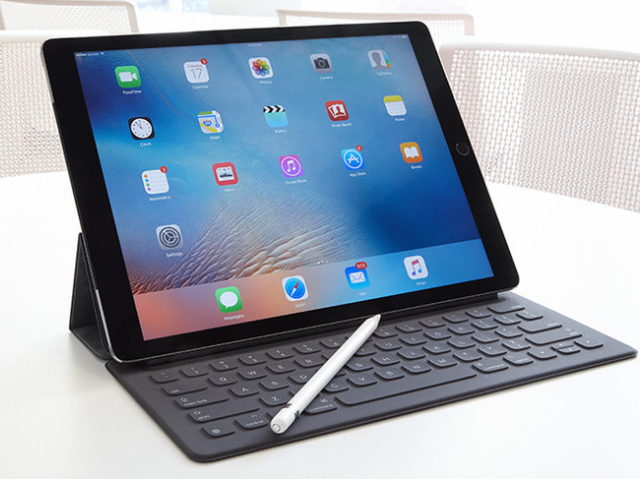 Photo Courtesy of Tom's Guide
My faithful companion on a dozen cruises and vacations was an Apple MacBook Pro that I used to manage my photos, communicate with the outside world. and write books and articles. With the accessories, the outfit weighed about 15-pounds (including the 28-inch monitor and cost over $3000. Last month I sold this gear and bought a 256-GB iPad Pro that weighs less than a pound and cost $1300. It's about the same size as an 8"x10" sheet of photo paper and it's a quarter-inch thick. Its processor is faster than my 2013 MacBook Pro and its screen is sharper.
Should you replace your full-featured laptop with one of these little wonders? That depends on your workflow. A problem is that the iPad Pro only backs up to the Cloud; and it only downloads photos from a hard disk, but not hardcopy files. This is great in Los Angeles but may be problematic at sea or 50 miles south of Nome. It also can't be connected (yet) to a high-res large monitor, a mouse or a touchpad.
Only a few photo software packages have been modified to work with it; although Adobe Lightroom CC has been beautifully implemented and is available for free. You can pair it with a whopping terabyte of Adobe Cloud storage for only $9.95 a month, and it can be used on the iPad Pro or any other devices that Adobe supports. As for the screen, color photos are deeper and richer than on any piece of photo paper. That means I can knock clients' socks off by presenting a full color 50-photo 8"x10" portfolio on a device weighing less than a pound.
In my case, this means I can run Lightroom CC on my iPad Pro and on my desktop MacBook Pro in my home office. Also, the CC version of Adobe software packages eliminates the Adobe cataloging system that has frustrated many Adobe users for years. Another package, ON1 Photo RAW 1918, also works fine.
I expect that either Apple or third-party developers will solve most of the remaining problems with using an iPad Pro as an ONLY PC by permitting hard drives to be fully connected to the iPad Pro, along with a touchpad, a mouse and a high-resolution desk monitor.
I just used the iPad Pro exclusively, on the new Seabourn Ovation, that went from Singapore to Thailand, and from there to Cambodia, Vietnam and Hong Kong. Because it was a new ship, the Wi-Fi worked flawlessly from my stateroom, any of the lounges, or on deck. I avoided the problem of uploading large photo files to the Cloud on the ship's wi-fi by uploading photos to the iPad Pro once a day using the SD card dongle that it does accept, lightly processing the images using Lightroom CC or ON1 Raw, and emailing the images back home via Wi-Fi whenever we were in a port. The auxiliary keypad built into the case worked flawlessly (it's physically connected and doesn't require Bluetooth) and I wanted for nothing on this cruise. In fact the images produced by my tiny Sony RX100-M6, with its 25-200mm lens and 1" sensor, were so good that I only shot with my Sony a7 III a few times.,